The Elite Ring News
This page is mainly for members of the Elite Ring to keep up with developements and progress as well as any changes.
Any comments or additions mail me at
June 29 (2003)
Not much to report, a lot of tidying was done but the ring still is not perfect. I have simplified the addition process and a few new members have been added, along with a lot deleted
September 1 (2002)
Well its been almost a year since I last posted here. A lot of things have happened, Webring has changed hands TWICE! each time requiring changeovers. I have finally got things up and going again, adding yourself to the ring should be much easier. I have cleared out a lot of dead sites and managed to get a few working back into the ring, We also have a new website in the ring GalNet, welcome!
FFE has changed a lot too, with the release of John Jordans version and Anisotropics mod a whole new life has been breathed into the game.
September 21 (2001)
Quite a few new TER members, now that I have time to update this page more, I will be adding them soon
October 10 (lets say)
Fixed stupid 404 error some were getting with the First Encounters Art Page on the ring the address was http://ffeartpage.com/index.html and the real address was http://ffeartpage.com/index.htm notice the htm instead of html, sheesh!
September 23
Been a little quiet for a while but we have a new TER member Anti-matter Gaming Resources bringing the total up to twelve ring members :-) and two in the queue :-(
Made the transition to a non-geocities page so no more pop ups and better speeds for all. :-)
June 10
A few people have been put back on to the queue pending them putting the HTML code on their page. I have been trying to contact them with little luck. I now have a TER only E-mail address. So put all your TER related E-mails to ...
Tuesday, April 21
Been a quiet month, TER has a new member. I would like to welcome Darren 'Badger' Bullivant to the ring. His site being The WinElite Project Site , I am very interested in whats happening with this and will be checking regularly.
TER now has 11 sites to its name, the latest addition being Life on the Frontier - Elite 4
Saturday, March 21
This is the new logo Hooplah designed, this is the example of it (it doesnt work)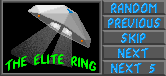 Although it isnt the official one, I quite like it, If you want me to make it the official one me at ...
If I get over 50% member turnout I will change it.
Wednesday, March 4
I would like to welcome "Kroom" to TER, that brings the total up to 12 members.
His site can be found at kroom (The Home of Kroom)
Saturday, February 14, 1998:
George Hooper kindly made a new ring logo for TER members. A vote was held and it was decided that we will not adopt this as the new webring logo. Anyone can still use this logo if they want, the logo can be found at First Encounters Art Page
on the LINKS page.