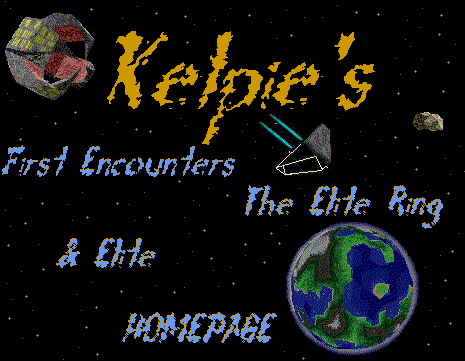 Kelpie's Homepage
Last Updated: 4 April 2005
I havent been updating this page as much as I would like but I am still part of the Elite universe.
Here are a few links to some recent developments in the Elite/Frontier world:
Darkness Falls this is a recently released project by Christian Pinder and Ian Bell (one of the original Elite creators). Still in an early stage but worth a look.
JJFFE Central which has an executable that allows you to play in windows and also fixes a number of bugs.
Anisotropic has released an awesome mod for Frontier First Encounters, if you havent already got it do so now!
You can download the original ELITE from Ian Bell's site (http://www.iancgbell.clara.net)
---
Site Index
FFE (or Frontier First Encounters) is a 3D space trading game, which is the latest in the Elite series. It was released with a huge number of bugs, the game was recalled from the shops after many patches and it ruined GameTek's reputation (Well I think so), FFE was created by David Braben without the help of Ian Bell (Co-Creator of the original Elite). FFE is still a very good game and has of yet not been surpassed in terms of realism and atmosphere.

E-mail
ALSO MY ICQ# is 14938407 if you want to contact me that way, I will try to answer any questions.
---